Western Bureau:Reggae Boyz head coach Winfried 'Winnie' Schäfer is promising that Jamaica will be at full-strength when the nation hosts the eight-team 2014 Caribbean Cup final phase, which will be played in Montego Bay from November 9-18.
"We will have a chance to select our best team because the tournament will be played on FIFA dates," said Schäfer, who was speaking at a joint JFF/St James Parish Council press conference, called to announced details of the Caribbean Cup and next year's CONCACAF Men's Under-20 tournament, which will see a part of the first round, semi-finals and finals being played in Montego Bay.
"There is no guarantee for success, we have to work hard…all the players, both local and overseas, will have to be ready to give of their best," continued Schäfer. "Everybody wants to win against us so we must put out a strong team and play well."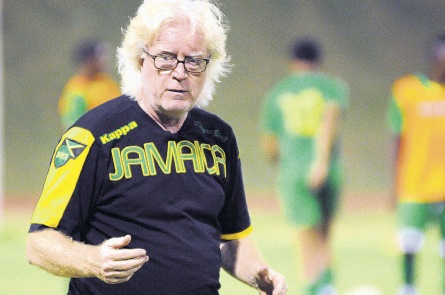 In explaining the significance of the Caribbean Cup to Jamaica's quest to consolidate a position of power in regional football, JFF boss Captain Burrell told the press conference that in addition to a place at the prestigious CONCACAF Gold Cup, the winner will also qualify for the South American Cup, which will be played in the United States in 2016.

automatic qualification
"The top-four teams will qualify for the 2015 CONCACAF Gold Cup automatically, while the fifth-placed team will play-off against the fifth-placed team from the 2014 Copa Centroamerica tournament," said Burrell. "Additionally, the winner of the Caribbean Cup will advance to the Copa America Centenario Cup in 2016."
In encouraging local fans to come out and fill the 6,000-seat stadium, Captain Burrell stated that on each game day, two matches will be played in the form of a double-header. The opening game will be at 5:30 p.m., followed by the second game at 8:00 p.m.
"We want the fans to come out and fill the stands," said Burrell. "We will be charging $500 for the bleachers, $1,000 for the lower grandstand and $1,500 for the upper grandstand."